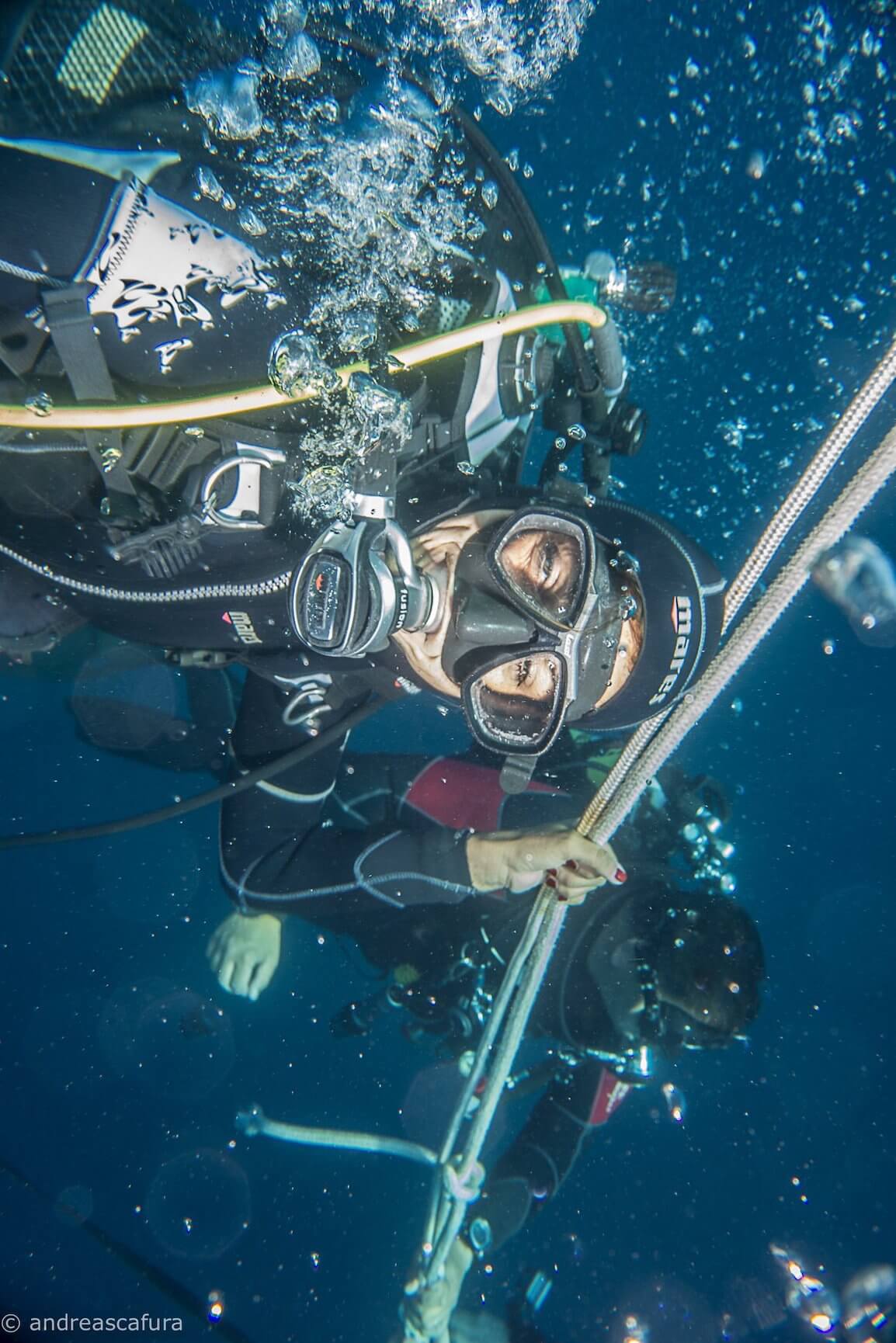 Biography
Born in Taranto on 20/7/77 (or as her parents say, almost on the beach of Montedarena).
In love with her sea since she was a little girl, she has fun exploring it with a mask and a tube and the desire to find an activity that allows her to live it fully grows in her.
In 2001, thanks to a friend and a BAPTISM OF THE SEA, he discovered scuba diving and was immediately passionate.
He patents OWD in February 2002 and in the summer of the same year he arrives at the Taras Sub and leaves it no more.
Intended to grow as a scuba diver, he remains in association with the front office, participating in diving and taking courses.
The patents follow:
AOWD specialty Boat Deep Night Navigation Wreek Equipment;
NITROX EAN40;
STRESS & RESCUE;
Since 2010 DIVE GUIDE AND DIVE CONTROL SPECIALIST of the Taras Sub Diving Center.
Welcomes everyone with a smile … but don't make them angry and just bring them a cake immediately.
She firmly believes that salt water treats all ills and that happiness in front of or at the bottom of the sea is a simple idea.
He loves the long banks because 60 'without anyone talking to you listening to his breath and the voice of the sea … they are priceless.
One of his favorite mottos is if life is hard you "sponzala" and more "sponzed" than underwater …
Stefania Marulli
Guide and instructor help
Born in Taranto, since she was a child she became passionate about scuba diving and diving activities that in the beautiful setting of Taranto practice with passion and dedication with the Taras Sub Diving Center.
Carlo is available for the following activities:
Deep dives
Ara dives
Nitrox diving
Group dives
Night dives
Research and Recovery Dives
Wreck diving
Diving Caves
Drysuit
Navigation